Hot Rodder Finds a Fresh Canvas in a 1965 C10
By Scotty "Scoot" Lachenauer – Photography by the Author
Hot Rodder Mike Little is no greenhorn when it comes to the vintage truck scene. His last creation, a Pro Touring–styled '52 Chevy pickup, made the rounds on social media and even landed a cover feature in a classic truck magazine. So, when Mike sold off that pickup to free up some cash and much-needed space in the family garage, it was only natural that another needy truck would soon find its way to the Littles' homestead, situated in bucolic Spring Grove, Pennsylvania.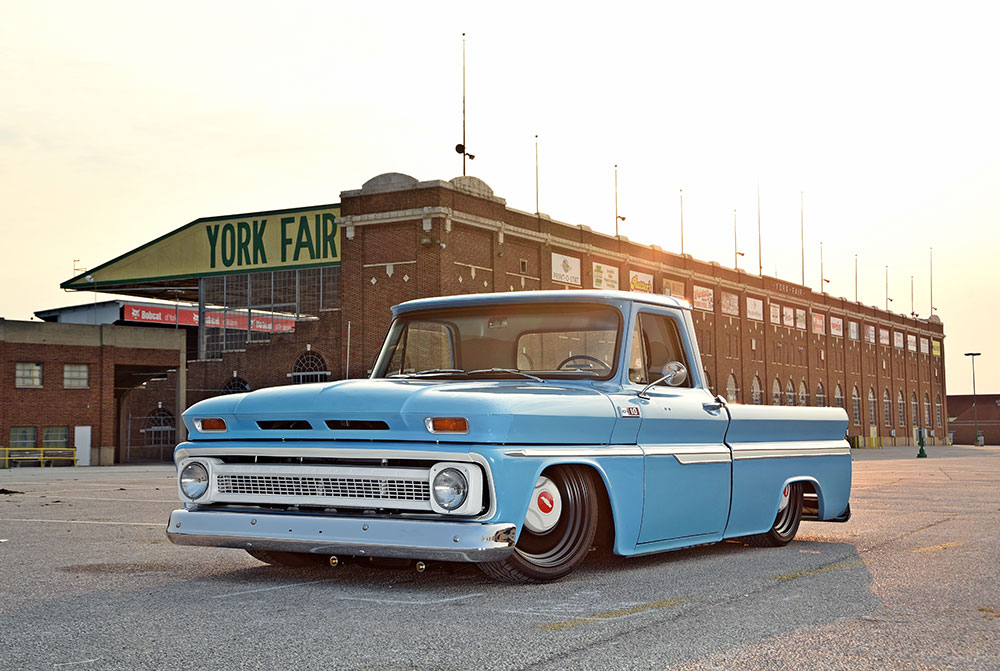 "After my wife, Lisa, and I sold the '52 we began looking for a '63-66 C10 in good enough shape to build our next hot rod truck with. We wanted to avoid a lengthy bodywork and paint exercise on the truck, so we were looking for a clean, painted pickup that was ready to use," Mike states. The truck they found checked off all the boxes of what would make a good starting point for their latest build.
They purchased a 1965 C10 short bed truck showing only 66,000 miles on the odometer. It was also sporting its original 6-cylinder engine and 3-speed transmission. It did have some modern modifications added to it, including an air ride setup, disc brakes, and drop spindles, but it still maintained an overall old-school look. The truck was skinned in an older repaint, which was luckily still in good shape, displaying some nice patina on its outer panels.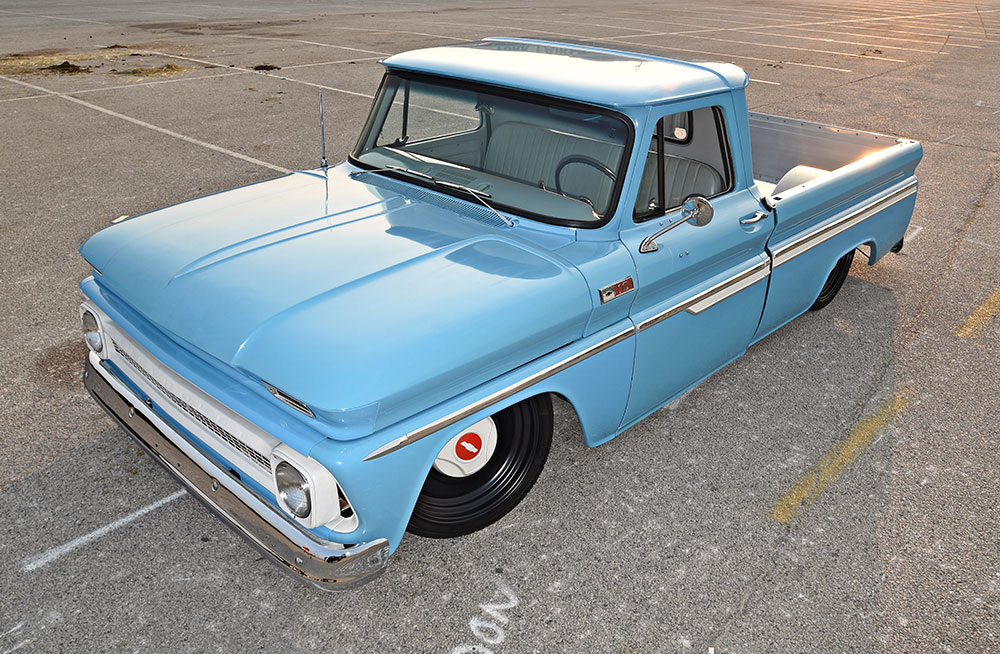 The game plan was simple: Fix the minor rust issues in the lower body while keeping the skin mostly intact. Next, add an upgraded suspension underneath it for driveability and then infuse the classic truck with a healthy dose of horsepower underhood. Though the truck would receive a little outside attention from local speed shops, the majority of the work on this particular Short bed C10 would be done in the Littles' home garage.
Small Steps
During the first year of ownership, the family enjoyed the built truck just how they received it, driving it locally to car shows and on Sunday cruises. After that "new car feeling" started to wane, Mike decided to get the ball rolling and began the teardown of the C10. This would be the start of a complete frame-off rebuild into a more modern street truck that would take the Littles the better part of two years to complete.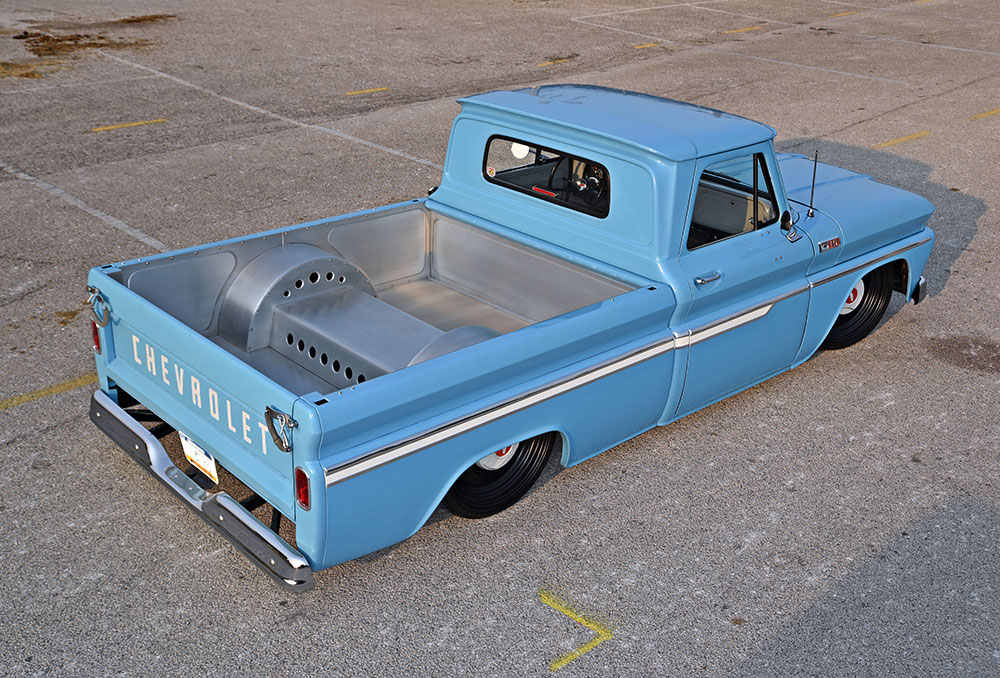 Read More: Chicken Coop Turned Showstopper: Tim Sharp's 327-Powered 1957 Chevy 3100
The C10 had been sold to Mike straight out of Pattinato Hot Rods just outside of Pittsburgh, Pennsylvania. The shop installed the air suspension setup and upgrades on the pickup as well as performed some clean up of the chassis and body before passing it onto the Littles. Mike wanted to keep some of the modifications made over the years by its past owners while adding his own "grocery list" of goodies to this new hot rod build.
First to go was the drivetrain. The original 6-cylinder engine and 3-speed transmission were removed and laid aside, as a more potent mill was on Mike's lengthy parts list. Once the body was separated from the chassis, the sleeves got rolled up and the heavy work began. The Littles started off by stripping, cleaning, and then selectively boxing the original frame for more rigidity. A Switch Suspension 8-inch C-notch kit was welded in to give the rear more travel space and to help make room for the big wheels and skins out back. The frame and suspension parts were then powder coated by LPC Powder Coating, out of Hanover, Pennsylvania.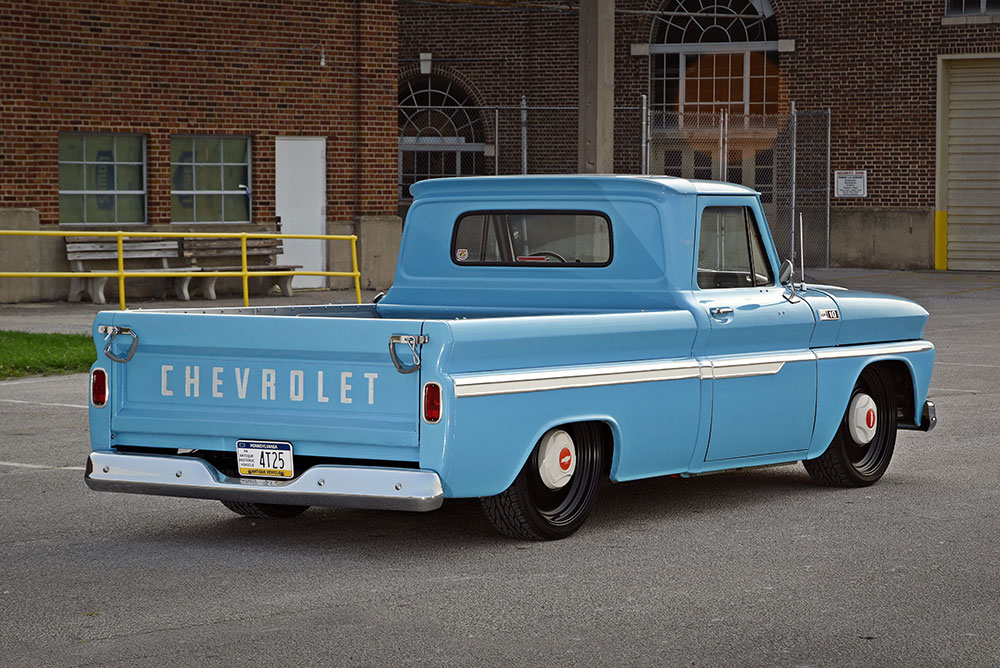 The C10 suspension received plenty of love here. Mike intended on keeping the air ride suspension basics while upgrading where he could. First off, Firestone 2600 airbags were sourced and added up front to the chassis to help get this "bedded" hot rod to rise and fall at a drop of a switch. McGaughy's supplied 2-1/2-inch drop spindles along with a set of their gas-filled shocks (built on custom mounts) to help out with the ride up front. Out back was a similar scenario, but Mike chose Firestone 2500 airbags mounted on BC Fabrication brackets to levitate the back side of the truck. A Performance Online adjustable C10 trailing arm crossmember was then installed after it was modified for additional driveshaft clearance. The stock trailing arms were reused, after being installed with fresh urethane bushings and a set of 2-inch lowering blocks.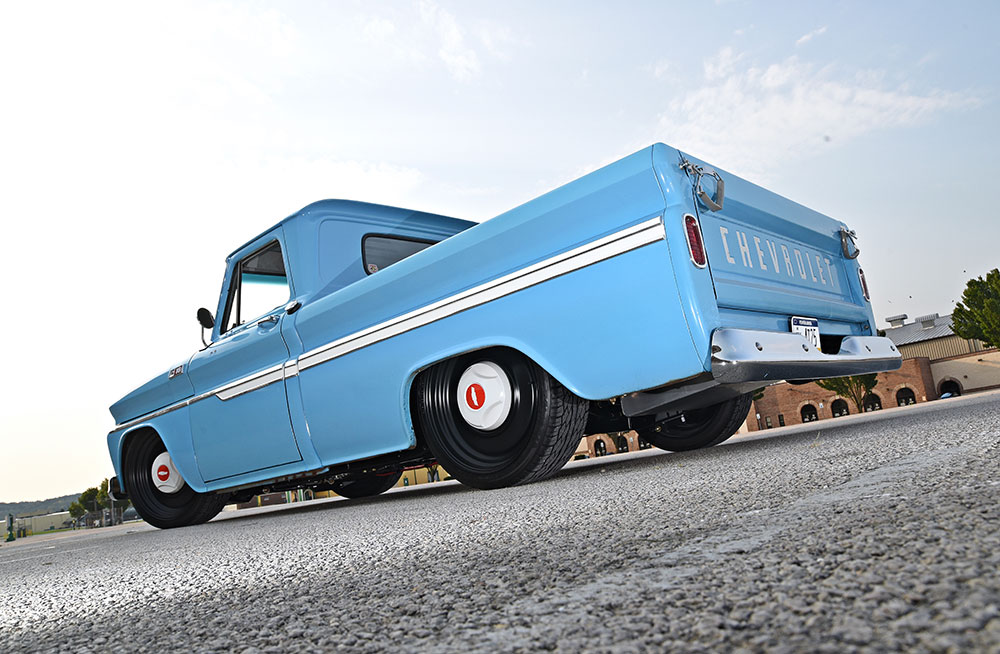 Big Steps
While the chassis was coming together, Mike started to think about the motorvation for this hot rod pickup. "We decided on going with a modern drivetrain; and what's better than a good reliable LS?" Mike says. They found their mill in the form of a 6.0L LS2 engine that had been pulled from a wrecked Trailblazer SS with only a scant few miles showing on the odometer. A BP Automotive drive-by-wire EFI harness and ECM were installed to help the engine work in this classic C10. Hedman 1 3/4-inch ceramic-coated long-tube headers help get rid of the spent gases in a hurry. To help punch through the gears, a 2WD 4L80E transmission was sourced from a '99 GMC 2500. From there the unit went to Joe Taylor in Vernon, New Jersey, where it received a TransGo HD2 4L80E kit and a complete overhaul so it could handle the power pushed by this nasty LS2 engine. A '65 C10 12-bolt rear end, built with a Powertrax No-Slip Locker and 3.73 gears, was installed to get the power to the big meats out back.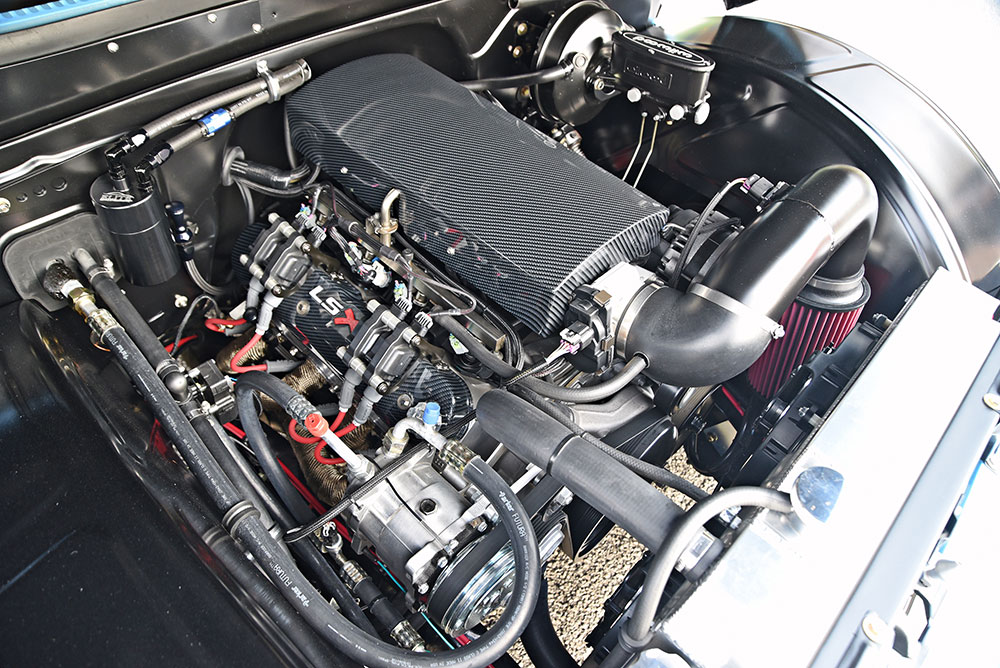 Read More: Classic Truck Takeover The 21st Annual Syra-cuse Nationals!
Once the chassis and powertrain were set, Mike started work on the body of this bedded Chevy. The owner was dead set on keeping the 15-year-old paintjob as intact as possible, to both keep the cost down on this reboot and to help keep this project moving along at a brisk pace. There was some minor work done to some of the panels here. The original firewall was smoothed and then sprayed in a low-maintenance semi-gloss black to help achieve a cleaner look in the engine bay. SelfMade Fab constructed the steel front wheel tubs that were added next. Minor rust repair was done on some of the lower panels by Hanover Auto Craft. Andy Arter of Kess Auto Body in Hanover added some new paint to match the truck's 507 light blue color scheme.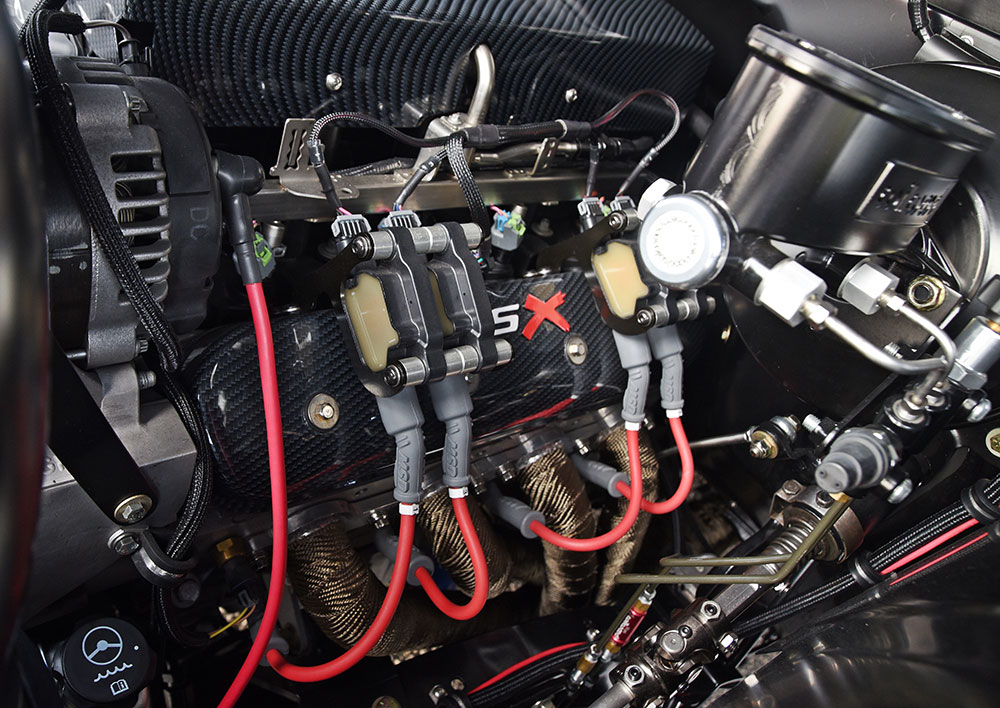 Out back Mike decided he wanted something unique for his factory short bed C10. After some thought he roughed out a concept, drew custom patterns, and fabbed up a one-off aluminum bed floor, complete with rear wheel tubs and raised tunnel for the rear axle housing out back. From there it was bead rolled by local guru Shannon Shimmel and brush finished by wife Lisa to obtain the look they were after. The finished product is a sight to behold.
Once the body and chassis were near complete, the owner moved to the four corners of this pickup. For stopping power Mike went with a GM 12-inch disc brake setup. Out back, the 11-inch drum brakes were rebuilt to help handle this C10's power curve. A Wilwood master cylinder assembly with an adjustable proportioning valve makes sure that all four corners get plenty of push. When it comes to what this Chevy rolls on, the owner put a lot of effort into making this modernized classic still look the part of a vintage hot rod truck. So for that old-school appeal, a foursome of GM transport 22-inch rims were grabbed up for the project. To keep that theme moving along, a set of original '64-66 C10 dog dish caps were installed. For rubber, the owner skinned his rims with Falken Ziex S/TZ05 tires in 265/35-22, both fore and aft.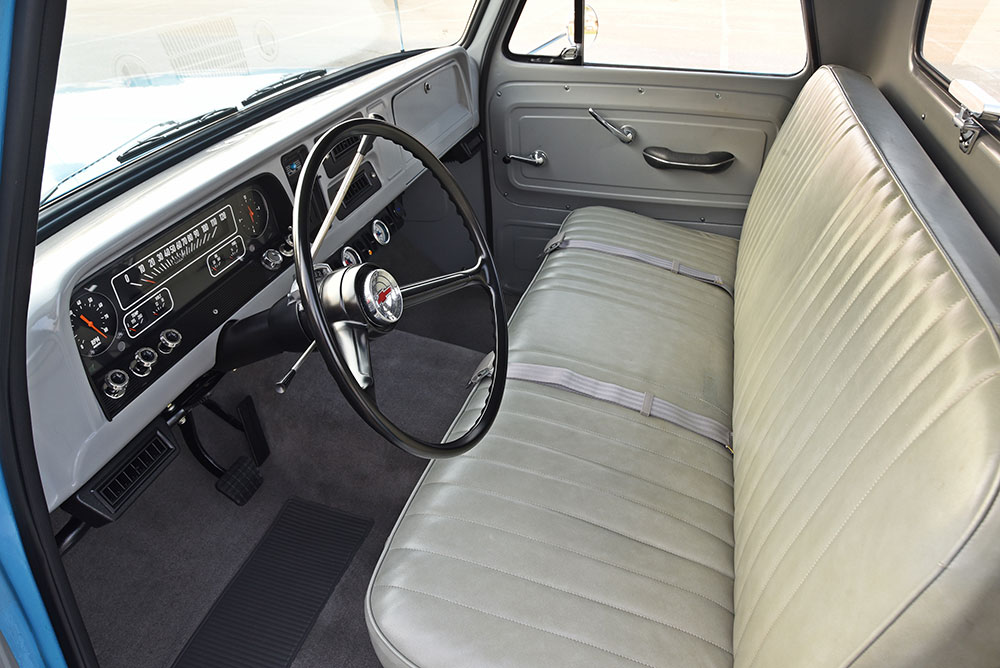 Finishing Steps
With this truck near completion, Mike knew he couldn't skimp on the interior. With the 3-speed transmission gone, the owner converted the column to an automatic column shift. To fit the 4L80E transmission properly, a Slosh Tubz high hump transmission cover was added. Next a Classic Instruments electronic gauge cluster was installed to keep track of this truck's vitals and an American Autowire Classic Update kit was spliced in to smooth out the electrical system. An Old Air Products heat/cool/defrost unit handles the HVAC system here to help keep Mike and Lisa chill on those hot Pennsylvania summer days. The original steering wheel was restored to keep this classic's cockpit looking classic, and Mike even went as far as keeping the original seat and the 15-year-old refurbished upholstery.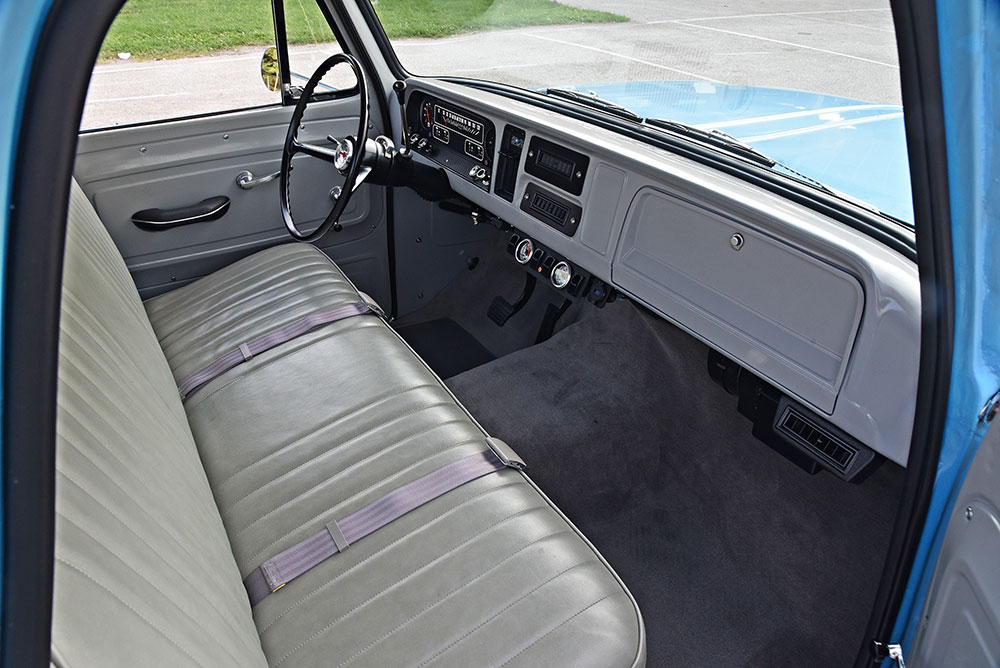 Other highlights to this C10 include a 19-gallon aluminum Boyd fuel tank with an Aeromotive Stealth 340 electric fuel pump to dole out the go juice to this thirsty LS engine. A ViAir 380c air compressor and 3-gallon tank mounted under bed helps this Short Bed C10 rise and fall on Mike's notice. In the engine bay, a set of modified LSX valve covers give a clean look to the 6.0 LS2. The owner fabricated a cover to hide the TBSS intake as well. Hydro graphics were done by Dave Whisler at Pigeon Hill Designs right there in Spring Grove. The final tuning on the LS2 was done by Calvin Nelson out of York, Pennsylvania, using HP Tuner software. With 435 horsepower at the rear wheels, it has certainly got the power to scoot on down the highway.
Read More: Alluring Sterling Silver 1956 Ford F100
Little by Little
Once the Short Bed C10 was nearly complete, they rolled into their first show of the season at the 2021 NSRA Street Rod Nationals East in York, Pennsylvania. There the "near"-finished truck grabbed plenty of attention from the onlookers. At its second show it took home the Hot Hauler award at the Goodguys Great American Nationals. "We really like the fact that after driving it a few miles, just a wipe-down with a damp rag is all it takes to get it show ready," Mike states.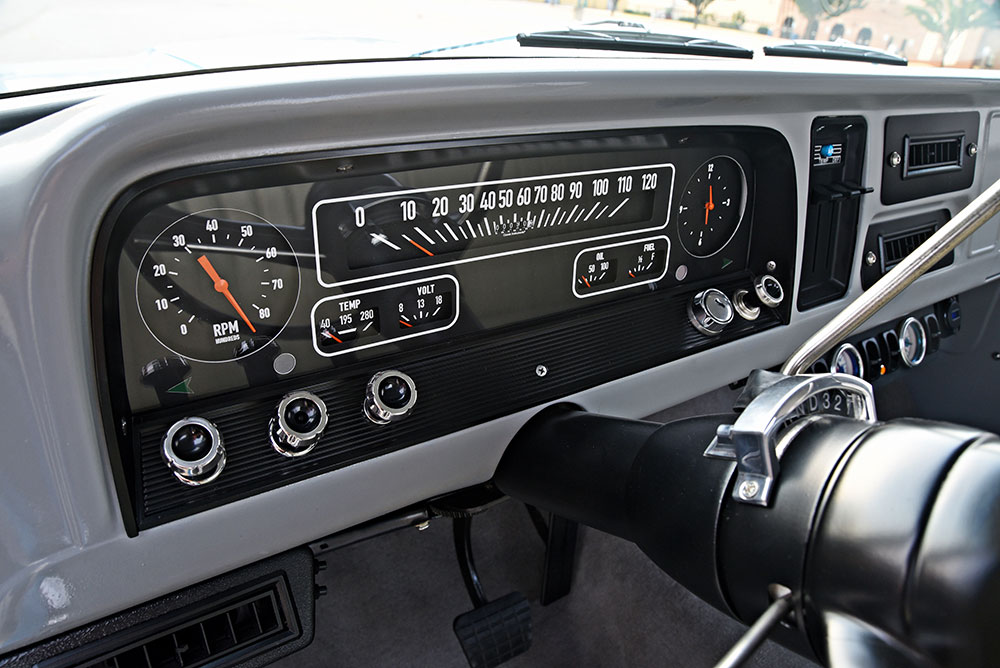 As far as the build goes, there were ups and downs. "The first windshield didn't fit right. Changing suppliers fixed that. Since we did basically zero bodywork, a lot of time was spent adjusting and shimming to get good gaps … and of course those typical startup and running issue gremlins," Mike states.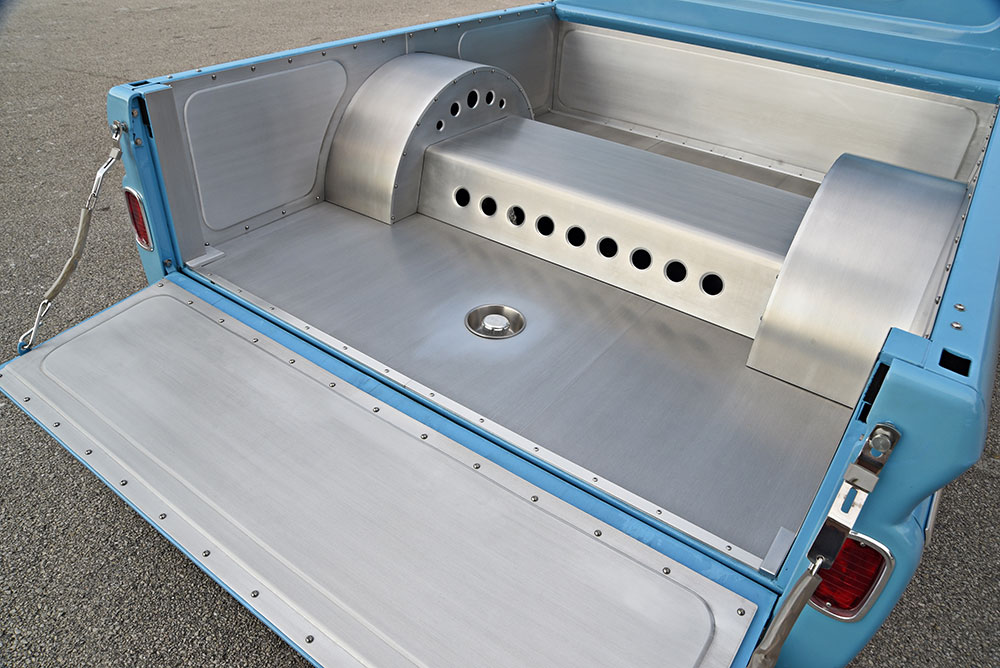 As far as the future, the couple have plenty of plans that involve this stealthy C10. But there are some things that probably won't happen in the next few years. "Our buzzword with this truck that was shared with many people was 'restraint.' Keep the patina, fabricate less, no body mods. The running joke with our friends and family was when are you gonna break down and paint it? Our inner circle thought we'd crack and get out the paint guns. We didn't!"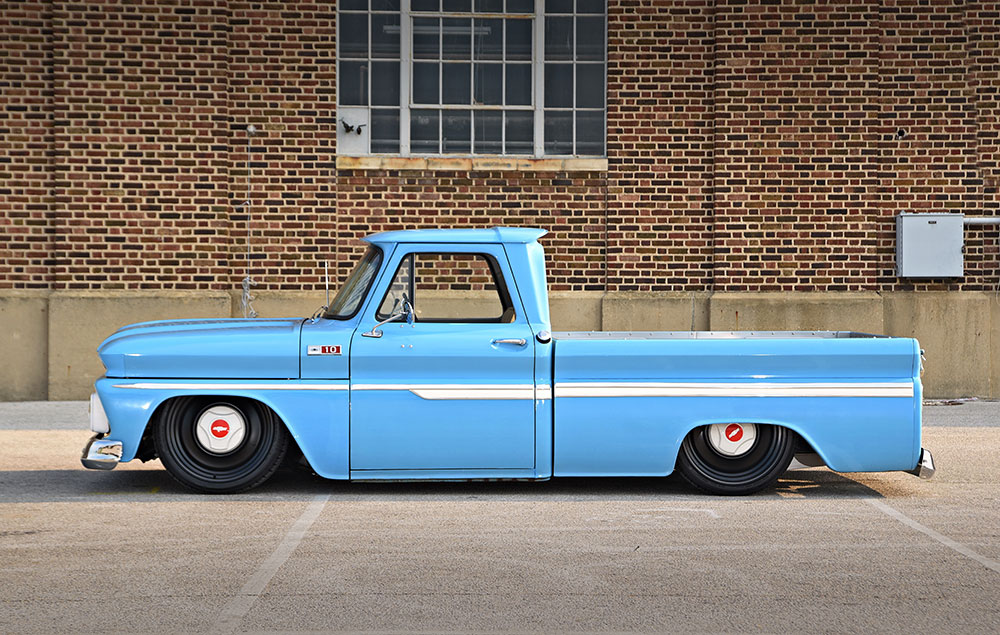 As with any hot rod build, sometimes you need a little help from friends. Mike says, "I want to give a big thank you to my friend Chris Moscarell who trailered the C10 home from Pittsburgh. He also supplied plenty of specialty tools during the build and was my sounding board during the process. A shout-out also goes to Shannon Shimmel for the custom sheetmetal work, TIG welding, and machinework."